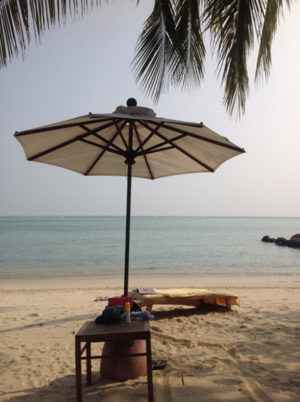 Kamalaya– Koh Samui
Part of my healing process for grief and loss has been reconnecting with my spirit, soul, and passions. After the loss of my partner to a terminal illness, I was diagnosed with PTSD  and depression. Initially I was doing everything I could to avoid  the grieving processbut one of the positives was escaping through travel. I found some pretty amazing places, people and treasures along my journey. One of those places which is still very special is an amazing healing spa/ wellness retreat/hotel, Kamalayain Koh Samui which I was lucky enough to stumble upon and have since returned a few times.
As it was my first trip away after the loss of my partner I wanted a very special experience, to feel nutured, safe, have people take care of me, pamper myself and seclude myself from everyday life for a few days. I needed a place to feel comfortable travelling alone and adjusting to newly being single.  I still had not really faced my grief head on. Kamalaya was a starting point getting me in touch with some of the pieces of myself that had become fragmented and buried by the grief.
What makes Kamalaya so very special and unique? 
– The staff. They are some of the most caring and lovely people and each time I have returned most of the core staff are still there making the connection and experience even greater.
– The food!   its outstanding! From the detox menuto the organic 'regular' menu which is still pretty darn healthy. You can even order a wine if you feel the need to but I found towards the end of my first trip to Kamalaya it didn't feel strange not to have a wine with a meal. Instead connecting with other guests is encouraged and there is even a 'community table'these days which makes it even easier to connect with others while enjoying the magical views from the dining room.
– It is a place where you can choose what kind of holiday/detox or relaxation. It is great in that respect that you can choose how you want to eat, so from either menu or some choose to do a complete detox program which is very structured, monitored and overseen by doctors and experts.
– It's a place where you can go and forget about the rest of the world, something I much needed. There is no TV, radio, newspapers, (internet is there if you need it however it is not encouraged). That was actually one of the best remedies for me to start relaxing and for me not to be constantly checking my emails/phone and refreshing my  social media feeds.
– The treatments and facilitiesare pretty impressive too. Everything from  yoga, qi gong, tai chi, meditation, to pilates and personal training. And with the wellness centre designed and built around nature, nestled into the side of the mountain and views that truly take your breathe away, all there while you wait for your luxurious and healing treatments.
Lastly I've made some amazing friends for life from the visits I have made to Kamalaya.
Kamalaya is truly a totally wholistic approach to body, mind and spirit!